When celebrated designer and academic Bill Moggridge died earlier this year, a striking titbit emerged from the flood of obituaries and heartfelt personal tributes. It concerned his most famous design – the GRiD Compass, aka the original laptop computer – and how it was conceived in Bill's rather makeshift design workshop, perched above a dry cleaner's in Kentish Town Road.
From these low-rent NW5 origins, his ground breaking design went on to fly aboard every Space Shuttle mission until 1997, and inspire the look and feel of pretty much every portable computer that was to follow.
Despite spending much of his career in California's Silicon Valley and lecturing at Stanford University, or later as director of the Smithsonian's Cooper-Hewitt Design Museum in New York, Bill was very much a North Londoner.
He grew up in Highgate, studied at Central St Martins, sang in William Ellis School parent's choir and set up his first design studio in his home on Dartmouth Park Road in 1969. When it became a little too much to live amongst his early creations, including a toaster and a heater for Hoover, he found some rooms in the rundown arcade where Kentish Town forks off up Fortess Road.
In a Radio 4 interview after his death in September (you can listen to it here), Camden New Journal scribe Dan Carrier, who was at Gospel Oak School with Bill's sons, recalls venturing up the stairs and being shown an odd metal briefcase that unfolded into the first computer he'd seen beyond the realm of Star Wars, and how immediately compelling it was to look at and to touch.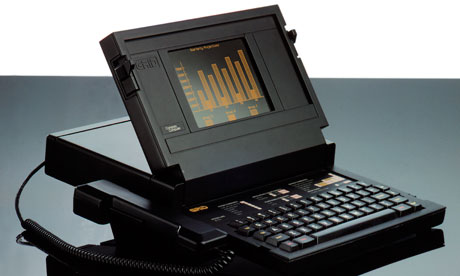 The enduring genius of this device was the folding 'clamshell' design. In a warm tribute on the website set up to celebrate Bill's life, John Ellenby of GRiD Systems remembers the moment the team were shown the concept, demonstrated by Bill folding his hands. 'A big smile, a few more words and then you stood back. Later I noticed that these were signs of great emotion for you, as you let us all see, 'that's the one'. And indeed it was.'
There had been a fair few stabs at 'portable computers' before, but it was this Kentish Town creation that moved away from impractical horizontal keyboard/screen combos or massive boxes with detachable keyboard lids. The clamshell protects the screen, allows it to be used at a comfortable angle and has simply never been bettered. Even today's iPads and other tablets seem to be unavoidably gaining add-on keyboards in the mould of the hand-folding prototype.
Moggridge, K-Town's very own Steve Jobs, went on to co-found IDEO, the company that designed the first mouse for Apple. He spent his life increasingly fascinated with the way people react to machinery, and how that should be the basis for its design. He became as loved for his jovial English mannerisms as his trailblazing approach to his work.
As this vision for design took him across the US and beyond, he maintained a strong link with home, keeping a small flat in Parliament Hill. Meanwhile his inspired design, born in an unassuming little room above what is now Noonoo & Bebo's café, looks like it will continue to feature in all our lives on a daily basis.
Finally, here's a tribute video put together by people who clearly loved Bill's trademark North London eccentricities:
Words and main pic: Tom Kihl