Friday afternoon a text pinged: let's go to Hop Farm tomorrow. Using two satnavs, a map, an AA print out and even signposts, the next day we tackled the clogged-up arteries of central London – and landed in Kent a whole two hours later.
They had run out of wristbands. Seriously? We rolled our eyes a little bit, but tried to disassociate ourselves from the louder complainers, until the nice security staff saw sense and let us in with just our tickets.
So, in short, we missed Brucie and set up camp for Randy Crawford. Now that is woman! She and her voice seemed to engulf the whole stage, of course 'Streetlife' being the song that made everyone leap up from their fold-up chairs and really take notice.
How civilized it all was. The sun was shining. A light breeze. But best guess at average age of the crowd? Oh dear, 42? Then we spotted a few teenagers, a barrage of kids, so maybe, we consoled ourselves, it's more like 38.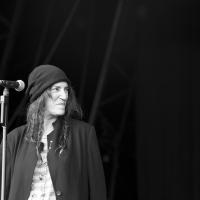 Patti Smith came on. Oh my. We rolled up the M&S blanket and did some really quite energetic middle-aged dancing, almost pogo-ing (a sit-down was definitely needed afterwards). Ms Smith was on excellent jolly form, smiling and loving the crowd (looking just like a man – a slightly more moisturised Iggy, perhaps – but nothing wrong in that). And 'Gloria' was worth the admission price alone.
We skipped Damien Rice (main pic), but reports say he was actually quite marvellous and people cried (in a good way). Instead we caught some of the consistently entertaining Gary Numan and enjoyed a small girl in the crowd high on someone's shoulders singing joyously and flailing her little arms to the beat of 'Are 'Friends' Electric'.
After a quick smattering of Maximo Park – not entertaining enough for us to stay for the whole set, sorry boys – we chose to leave and fill up with Sailor Jerry's and a Bhatti Man wrap, chosen really because, as a food stall, they were playing the best choons.
We then bagged a spot by the main stage, snarled at tall people in hats or wigs in our eyeline, and readied ourselves for Bob Dylan. The band came on in sharp grey suits, our hero in an excellent hat. It pains me that this is the best I have to say. We were there to see a legend – and were disappointed. His voice was so strangled it was almost self-parody: comments overheard were 'frog's chorus', 'tracheotomy' and 'emperor's new clothes'.
When it took two minutes for the crowd to recognize 'Tangled up in Blue', we decided to leave and head for the Big Top – where Primal Scream did not disappoint.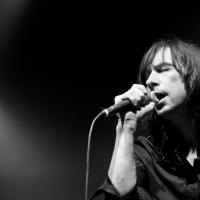 It's true that being inside with a stunning light show lifts the atmosphere, but regardless they were terrific. Enough hits to have the full tent singing along like crazies – anthems, new songs, slow, fast. More entranced kids on shoulders. We were Movin' On Up, Country Girls – and, inevitably, we were Loaded (though maybe not as much as back in 1990).
It'd be mean spirited to mention how it took over an hour to get out of the car park: it's to be expected, of course, and our fault for staying to Get Our Rocks Off.
Words & Main Pic: Susie Innes
Portraits: Imelda Michalczyk (Thanks to Arts Desk).